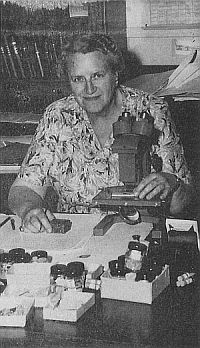 What better day to break the blog drought then International Women's Day.
Australian Governor General Quentin Bryce, quoted in today's Age newspaper (in the article 'All-female team is an aide first for GG Bryce'), says we "'must never take for granted' the freedoms won by females of previous generations".
So, Happy International Women's Day to you all!
Picking a woman at random from the recently launched exhibition From Lady Denman to Katy Gallagher: A Century of Women's Contributions to Canberra, I light upon Canberra-based micropalaeontologist Irene Crespin, who, when she succeeded Commonwealth palaeontologist Frederick Chapman in 1936, did so at half his salary.
These issues still exist! Let us not forget!
Irene Crespin is a great case in point for illustrating the importance of a gender specific resource like the Australian Women's Register. The summary description for her in the Encyclopedia of Australian Science reads:
Irene Crespin was Commonwealth palaeontologist from 1936. She travelled widely in Australia and to Java and Sumatra carrying out important research. Crespin collected fossils for analysis and studied rock and sediment formations. She chaired the Canberra branch of the Territories Division of the Geological Society of Australia in 1955 and was president of the Royal Society of Canberra in 1957. Both institutions granted her honorary life membership in appreciation of her work. Source
And her summary description in the Australian Women's Register:
Irene Crespin was a micropalaeontologist. After graduating from the University of Melbourne in 1919, she worked for the Geological Survey of Victoria, describing macro and micro-fossils found in sediment on the Mornington Peninsula. In 1927 she was appointed assistant palaeontologist to Frederick Chapman in the Geological Branch of the Department of Home Affairs. In 1936 she succeeded him as Commonwealth palaeontologist at half his salary and was located in Canberra. Source
Half his pay! I ask you!
Download Irene Crespin's memoir 'Ramblings of a Micropalaeontologist' from the Geoscience Australia website. I love the first page of her chapter "My ever increasing interest in micropalaeontology" – how she describes palaeontology as 'an integral part of my existence'; how, tellingly, without rancour, she states 'Although I had been successful in the higher examinations in music, it was decided for me that it would not be my career'. And on that salary business:
Of course, being a woman, and despite the tremendous responsibility placed upon me with the transfer to Canberra, I was given a salary of about half of that which Chapman received. Later the Chairman of the Public Service Board told me that I was being put on trial. Later on he congratulated me on the success I was making in my new position.
'Ramblings of a micropalaeontologist', Irene Crespin, 1 January 1975, 1975/083 – Catalogue Number: 13323; Geoscience Australia, Commonwealth of Australia.
Once again, I celebrate International Women's Day and these great resources about Australian women!
Read more: